Press Release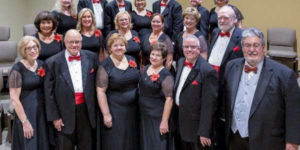 The Bakersfield Master Chorale, under the direction of Robert Provencio, Music Director, will be featured in a stand-alone performance at the Windy City Choral Festival on March 9, 2019. This will be part of a 5 day, 4 night tour to Chicago, March 6-10, 2019. The tour is being organized by Music Celebrations International (MCI). Mixed choirs will join together to sing in one of the world's greatest concert halls – Orchestra Hall at Symphony Center, home of the Chicago Symphony Orchestra. World-renowned choral conductor, Dr. Z. Randall Stroope, will serve as Artistic Director, and will lead the rehearsals and finale performance. The Bakersfield Master Chorale is one of only four choirs that was selected for the stand-alone portion of the Festival Concert.
If you would like to go on this tour with the Chorale, either as a singer or non-singer, please contact the Chorale at 661-831-1735. All the details are on our website, 
BakersfieldMasterChorale.org
. LAST DAY to sign up for the tour is January 15, 2019.
The attached photo is of the group that will represent Bakersfield at the Choral Festival: Front L: Sherry Wade, John Wagner, Robin Harkleroad, Kathy Wagner, Jerry Buzzell, Robert Provencio. Middle L: Cassie Choi Jue, Susan Guerard, Rene Cleek, Kandis Peake, Mathilde Southworth, Rich Owen. Back row L: Sarah Fields, Dave Waterman, Roger Hess, Nancy Hess, Phillip Provencio, Bruce Wade, Deborah Nystrom. Not pictured: Annette Bridgman and Elizabeth Provencio.
The Bakersfield Master Chorale is in its 86th Season and is a non-profit organization. The tour participants are self-funding this trip, however, there are some additional members that would like to participate in the Festival but do not have the means to do so unless a scholarship is made available to them. If you would like to help provide a partial scholarship, please call 661-831-1735 or visit our website, 
BakersfieldMasterChorale.org
.
The Chorale has participated in the Memorial Day Choral Festival in Washington, DC and has toured Europe five times and featured in stand-alone performances in our Sister City, Bucheon, South Korea.
Our motto is "Enriching our community with choral music", whether that is in Bucheon, South Korea or Rome, Italy or anywhere in-between. Wherever we perform, we represent our great hometown of Bakersfield, California!
Susan Guerard, BMC Tour Coordinator
661-369-9551